Harrell Field MS08
Mission:

Central Mississippi Light Flyers (CMLF)
Mission Statement
As amended September 13, 2014

Central Mississippi Light Flyers (CMLF) is a flying club first organized in 1996 and is based at Harrell Field (MS08) near Pisgah, MS. Incorporation as a Mississippi nonprofit organization occurred on May 7, 1997.

The mission of CMLF is to facilitate and promote the sport of flying.

In order to accomplish this mission, CMLF provides a suitable site for flight operations in central Mississippi, and a forum for safety education, exchange of technical information, and other cooperative activities. We also strive to bring the influence and expertise of club members to address public policy issues affecting sport aviation. An ongoing, specific focus for CMLF is the safe integration of ultra-light flying, glider operations, and light sport aircraft into the local general aviation community.

The CMLF motto is to "Fly For Fun". Throughout the year we enjoy flying together to various events and locations in the South. Whether it's an organized fly-in, a "$100 Hamburger" run, or a flight to a friend's strip, the fun is in doing it together safely! We enjoy sharing ideas, maintenance problems, building projects, and recent flying experiences with members and all others interested in sport aviation.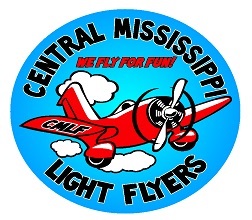 Central Mississippi Light Flyers

Fly For Fun! CMLF

---
About Us: